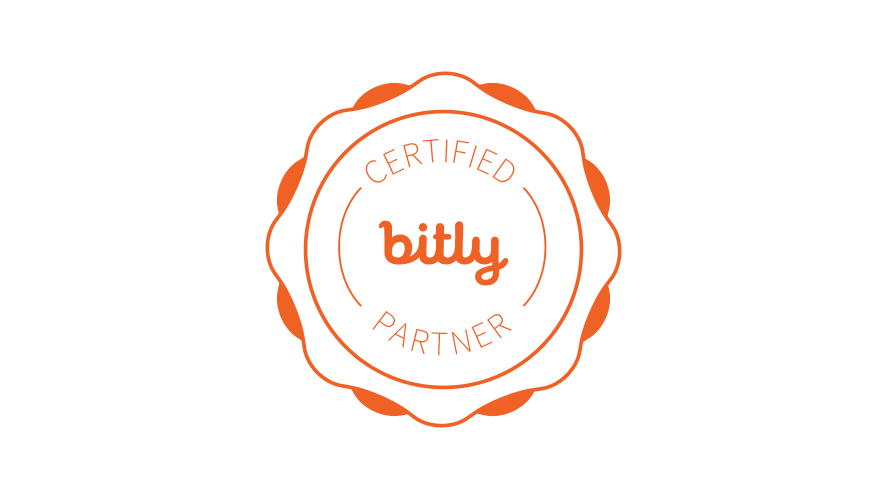 NEW YORK – October 1st, 2014 – Bitly, the company committed to the power of the link, today introduced a new tracking and analytics vertical within the Bitly Certified Partner Program to bring marketers even more value. As the newest Bitly Certified Partners, two leading platforms–SumALL and Simply Measured–have committed to integrating with the Bitly platform, which will enable marketers to easily optimize and measure owned, earned and paid campaign performance.
Marketers are already integrating Bitly across social media tools to gather valuable data for every click on any encoded asset, including count for content shared organically or by the marketer, geolocation, referring domain and audience reach. Bitly has unique visibility into both organic and owned marketing activity across all digital channels. Now, joint customers of Bitly Brand Tools and the tracking and analytics platforms within the Bitly Certified Partner Program have a holistic view of that data to see how their audience, built using Bitly, is improving their social performance metrics (e.g. likes and fans on Facebook, retweets and followers on Twitter) and site performance metrics, such as Omniture, SiteCatalyst/Adobe, and Google Analytics.
"Bitly doesn't just shorten; we encode assets with proprietary code that empowers marketers to gather detailed insights on audience reach and engagement. That's crucial for measuring ROI, especially on social, and understanding performance of owned, earned, and paid marketing initiatives" said Jennifer Hanser, Senior Director of Strategy and Partnerships at Bitly. "We have keen insight into consumers' interactions with content across channels, platforms, and networks. Our partnerships with companies like Simply Measured and SumALL will prove invaluable for marketers looking to make data-driven decisions."
Introduced in June 2014, the Bitly Certified Partner Program helps marketers identify the best partners that integrate with Bitly to ensure a consistent and secure experience. Current members of the program include social publishing platforms Adobe Social, Percolate and Buffer and brand advocacy platforms Dynamic Signal and EveryoneSocial. As the program expands, Bitly will continue adding new partners across a broad spectrum of verticals within the marketing technology ecosystem.
"The combination of expanded Bitly data and the insights provided by our cross-channel social measurement capabilities gives marketers a clearer picture of campaign performance," said Adam Schoenfeld, CEO and co-founder of Simply Measured. "That's something that has both sides of this partnership very excited."
For more information about the Bitly Certified Partners Program, or to inquire about membership, please visit www.www.hm3inc.com/partners.
?###
About Bitly
Since 2008, Bitly has been committed to the power of the link. Privately held and based in New York City, Bitly shortens more than 600 million links per month as an integral part of social, SMS, email efforts (and more) from publishers, brands, marketers, government organizations, educational institutions, non-profits and individual users. Processing more than seven billion clicks on those links per month, Bitly remains the leader in an optimal sharing experience, and continues to unveil new products while generating one of the most valuable proprietary datasets in the world today.