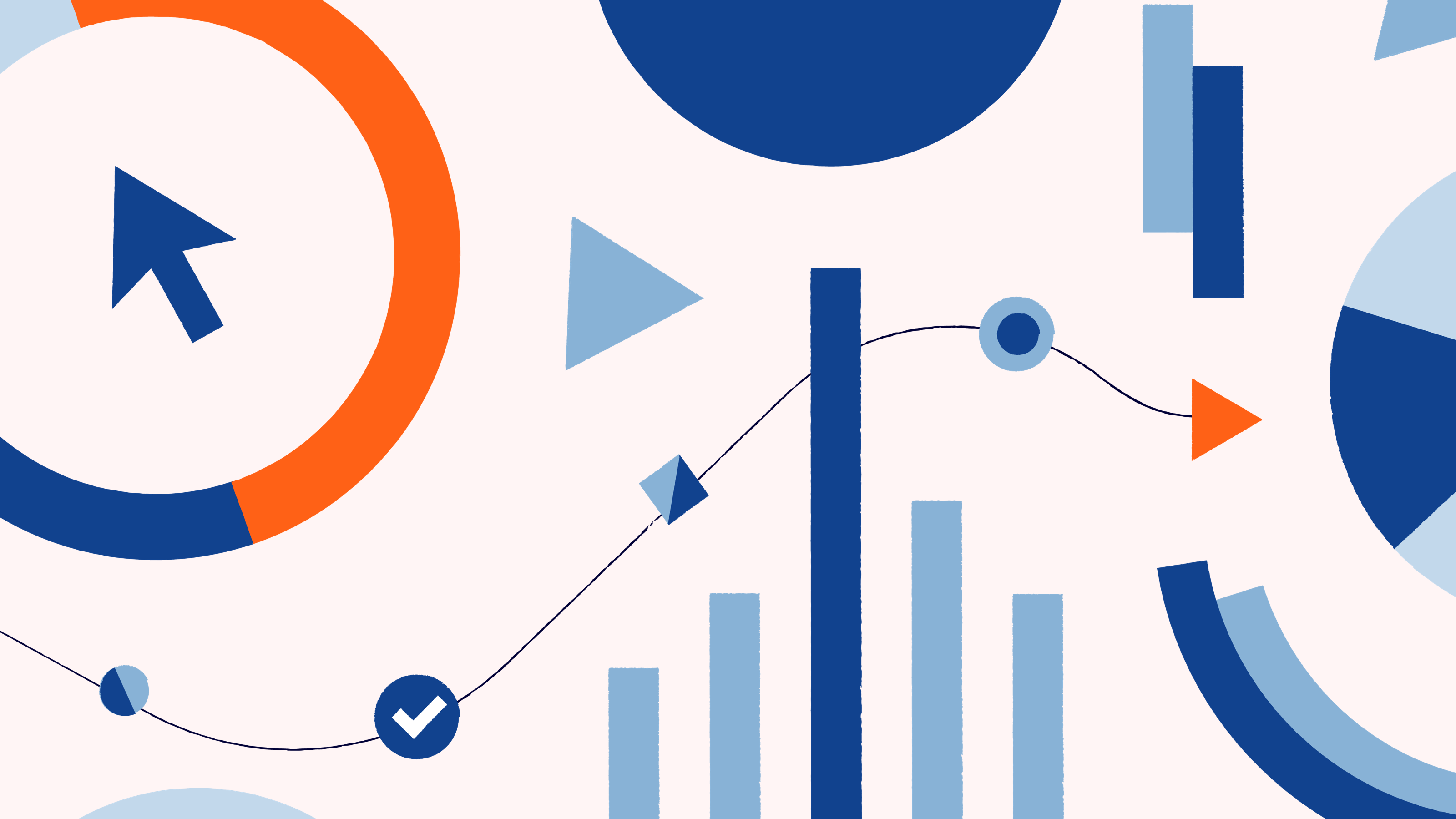 Not to sound like everyone else, but digital marketing is constantly evolving.
As digital marketers ourselves, we're constantly kept on our toes. We have to stay up to date with different industry tools, all the latest changes to social media and search engine algorithms, how people consume content, when they consume it and how to measure success. To say it's complicated doesn't do it justice.
These changes can make it hard for marketers to reach customers effectively and make optimizations that keep up with the fast-paced world of digital marketing.
That's why having real-time data on your links that shows you who's clicking, who's converting, from what channels and on what devices is invaluable. In this guide, we'll show you how to do that using Bitly. We'll also walk you through how you can use other helpful features, like branding, to improve click-through across all of your digital marketing channels.
You'll learn:
? Tips for mobile marketing
? Tips for managing multichannel campaigns
? Tips for A/B testing
? The metrics you can access with Bitly
? How to brand and customize your links
We designed this guide to show you how Bitly can help you maximize the impact of every digital initiative. Let's get started.
---
Tips for mobile marketing
Mobile marketers need the right tools to help measure the success of their campaigns. Bitly can help in a few ways. First, by allowing you to create unique branded short links at scale for your SMS communications. Second, by enabling you to create mobile deep links to drive app downloads and engagement. And third, by providing metrics on the links embedded within your mobile app experience.
Scaled communications
You can use the Bitly API and our many integrations to create thousands of unique links for your SMS communications.
Our customers use the API to:
Send out location-based promotions
To re-engage customers who have abandoned their online shopping carts
To send time-sensitive deals and discount codes
Using branded short links, you can save on SMS character fees. And, since your trusted brand is in your links, encourage your customers to click.
---
---
Deep links
Use Bitly's mobile deep links to directly route users to the right place within your app or send them to the app store to download it. Deep links create a seamless transition to mobile, drive app engagement and encourage app installs.
For example, when users click a link in an email or social campaign and they have your app installed, you can take them to a specific landing page within the app. Deep links are critical to re-engaging app users and offering them the best possible mobile experience.
Metrics
App installs are an effective baseline metric to gauge initial interest in a brand's mobile behavior, but there are other important metrics to keep an eye on. By monitoring how often customers actually use your app—and the actions they take within it—you can measure your mobile strategy in a more cohesive way.
Embed Bitly links in your app so you can understand user engagement. For example, you can test whether changes to a module on your homepage improves engagement, or which of your calls-to-action drive the most traffic to a specific page within your app.
---
Tips for managing multichannel campaigns
The customer journey spans apps, devices and channels. Comparing how your content and optimizations perform across each one can be tricky, if not frustrating. Since no prospect takes a single route, there's an infinite number of steps one might take to become a customer.
Bitly can help simplify this process. Campaigns is a section in the Bitly platform that allows you to organize and compare multiple channels against each other and get a clear view of what's working and what's not. With these insights, you can adjust and optimize your strategy accordingly.
Organize channels
Use Campaigns to organize links associated with a campaign into different channels for a streamlined view of your metrics. Here's a look at an example multichannel campaign.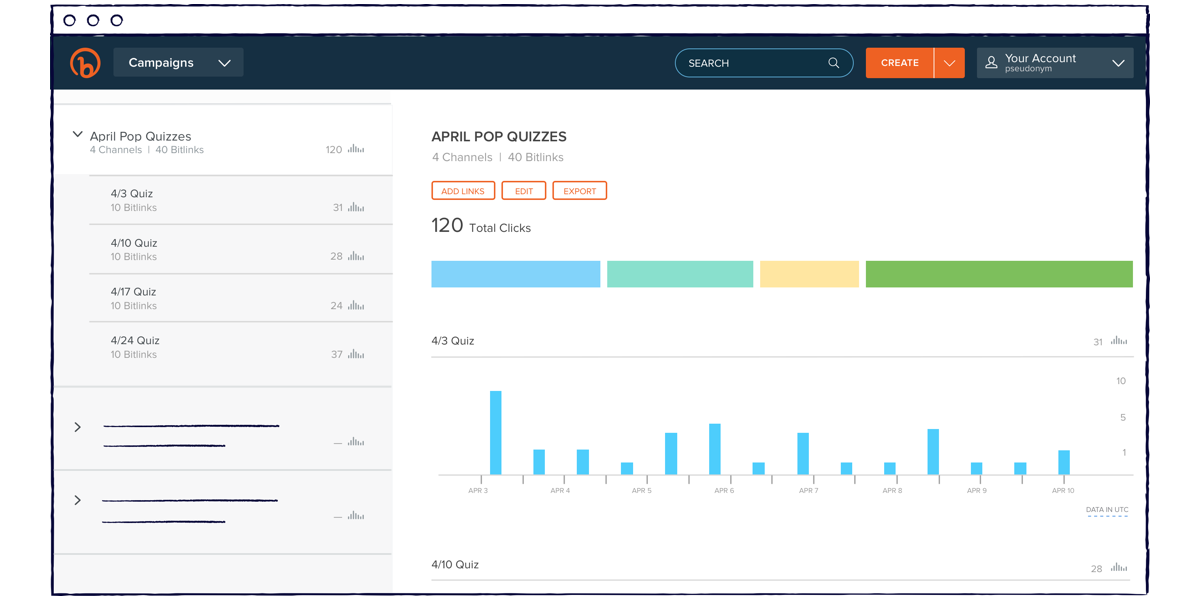 Side-by-side metrics
You can see that we created individual channels for Facebook, Twitter, Instagram and LinkedIn. By doing this, we can easily see the number of clicks each channel garnered and the distribution of those clicks over time per individual channel.
Use Campaigns to consolidate your link metrics so you can easily compare channel performance in real-time—without having to jump from platform to platform. This will give you the flexibility of being able to organize your multichannel campaigns in a way that will give you the best view of your click data.
Another popular way digital marketers set up their campaigns is for A/B testing, also known as split testing. Bitly makes it easy to see how your tests are performing against each other, since you can create separate channels for each individual test.
---
Tips for A/B testing
As marketers, our biggest challenge isn't coming up with a solution, it's deciding on the best solution. That's why A/B tests are so useful.
Use Bitly links to A/B test your website, blog, mobile app, social media, digital ads and landing page content—be it button color, CTA language, CTA placement, image subject, headline copy or another element of your owned media.
---
---
Quick decision-making
Use Bitly to measure the impact of every optimization—no matter how small—that you make to your user experience.
For example, you might change the color of a CTA button on your website's homepage. By using a Bitly link behind that CTA, you can measure engagement with it both before and after you implement the change. This will help you answer questions like:
? Are people noticing the CTA button?
? Does the change convince users to take action?
? What time of day are they clicking?
The answers can help you and your team move more agilely by enabling you to make frequent data-backed decisions and justify changes you make to your user experience.
---
Data & insights overview
Your Bitly link data helps you analyze your cross-channel performance so you can understand how well your programs are running. You can reduce the time it takes to manage and track your A/B tests and multichannel campaigns by evaluating all of your link engagement data in one place.
Metrics in Bitly
Depending on your plan, you'll have access to data and analytics like:
? Link history
? Detailed performance metrics on each link
? Aggregated dashboard metrics
? City-level data
? Device-type tracking
? Mobile deep link reporting (i.e. app installs and link performance)
You can easily export your link data for further analysis with the click of a button.
Google Analytics + Bitly
While you may be using other web analytics tools, we're most often asked about how data in Bitly works in concert with Google Analytics. Google Analytics and Bitly work together to give you a better understanding of the traffic and conversions that drive your business.
Put simply, Bitly offers a quick way for digital marketers of all analytical skill levels to pull real-time data. Many of our customers rely on Bitly to get a daily pulse on the business to understand things like how a test they just launched is performing or whether their new email copy drove more clicks than the original. Bitly allows them to quickly see how their marketing programs are performing so they can make optimizations that drive more value for their brand.
Google Analytics offers customizable dashboards for those looking to take a deeper dive into their analytics. Our customers often refer to Google Analytics for more macro views like weekly and quarterly reporting on their initiatives—like whether website visitors are down from last month or which webpages are driving the most organic traffic to their site.
Branding and custom links overview
Your brand is more than a logo. It clarifies what you stand for; it communicates what people can expect from you; it separates you from your competition; and it is incredibly important to your bottom line. To that end, maintaining a consistent, distinguishable brand experience is one of the most important investments your business can make to fuel its growth.
Branded links

Use Bitly to create and share branded links and keep your customer experience consistent across channels. All you need is a custom domain and you can start sharing branded links in minutes.
With Bitly, you get a free domain when you sign up for a paid plan. Since your audience will recognize your brand in your links, they'll be about 34% more likely to click them.
Custom back-halves
You can further customize your links by editing the back-halves. When you edit the back-half of a link you give people a preview of where you're sending them. Here's an example of a custom branded link we used in our website's chat feature.

Auto-branding
Use auto-branding, a feature in Bitly, to ensure that any time someone outside of your organization shortens a link in Bitly that directs to your websites, it will automatically use your custom domains.
Auto-branding is a great way to increase awareness for your brand. You also get additional insights into how your content is consumed.
—
Creating branded call-to-action links for your communications and using Bitly's powerful analytics to drive your decision-making, you can maximize the impact of every digital marketing initiative.
Visit our website to learn more about how to use Bitly for digital marketing.
Want to learn more ways to use Bitly? Check out our ebook, the A–Z Guide to Bitly's Features, Use Cases and Tools.